Welcome to JasTeX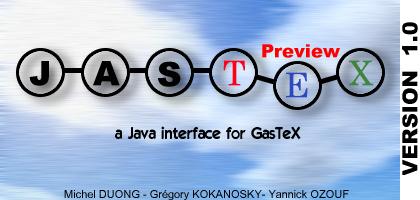 What is JasTeX ?
JasTeX is a Graphical User Interface written in Java for GasTeX.
JasTeX is a free open source program under GNU/GPL licence.
It has been developped by 3 graduate students at the University of Paris 7:
GasTeX.
One should keep in mind that it is an heavy task to develop such a GUI. Hence, it is not surprising that JasTeX is not perfect and can still be improved.
If you encounter some unexpected behaviours or if you have suggestions for improvements, please contact the developer team.
Disclaimer
JasTeX

IS PROVIDED TO YOU "AS IS".
YOU ASSUME TOTAL RESPONSIBILITY AND RISK FOR YOUR USE OF

JasTeX

INCLUDING THE RISK OF ANY DEFECTS OR INACCURACIES THEREIN. THERE ARE NO EXPRESS OR IMPLIED WARRANTIES OF ANY KIND WHATSOEVER, INCLUDING, WITHOUT LIMITATION, THE IMPLIED WARRANTIES OF MERCHANTABILITY OR FITNESS FOR A PARTICULAR PURPOSE OR THAT IT IS "ERROR FREE" OR WILL MEET YOUR REQUIREMENTS...

How do I try JasTeX ?
You can easily try the applet version of JasTeX with your (recent) web browser.

Is there a documentation ?
Yes, here. But unfortunately it is in french. Anyone willing to help with the transaltion is welcome and should mail to the developer team.

How do I get JasTeX ?
You can get the pre-compiled version of JasTeX.
It should run on any machine with Java 1.3 or greater.
The tgz archive contains the compiled stand-alone version of JasTeX, the applet version and the documentation (html pages).
You should start with the README file.

How do I get the sources ?
At sourceforge.net : http://sourceforge.net/projects/jastex/
CVS repertory : cvs.jastex.sourceforge.net:/cvsroot/jastex