Simon
Theissing
PhD Student, ENS Cachan
Hello and welcome to my academic web page. From September 2013 until August 2016 I was working on a PhD thesis here at the LSV in collaboration with IRT SystemX. You can find a list of my publications during that time here. Further below you can also find a short description of my research, and an extract from my CV.
Please note that I am looking forward to defend my PhD thesis on 5 December 2016. You can find more information here.
Research
Simply speaking, I am working on a mathematical model that can be used to predict the network load of a multimodal public transportation system so as to help transportation operators in degraded modes of operation; e.g. by evaluating different restoration scenarios. Now more formally speaking, the model has - after almost two years of intensive work - the shape of a Markovian stochastic hybrid automaton with discrete and fluid Petri nets as the basic modelling blocks.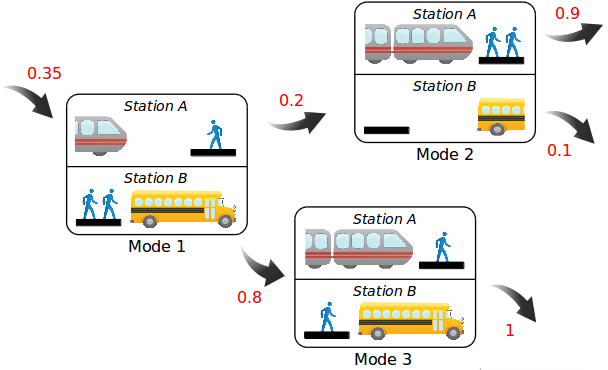 You can find my research abstract
here
, and a poster of a recent workshop
here
.
Short CV
In 2009, I obtained the degree of a Bachelor of science from the Hamburg University of Technology (TUHH) in general engineering science introducing the basics of mechanical, electrical, and process engineering, as well as computer science. I then continued my studies at the TUHH, and finally obtained the degree of a Master of science in aircraft systems engineering in 2012. It was also during my graduate studies, when I went to Canada so as to pursue my studies abroad at the University of Waterloo for about one year including an academic internship. Following my graduate studies, I started to work in the automotive industries in the field of embedded controllers including, but not restricted to, hydrogen fuel tank control. Now since September 2013, I have been pursuing my studies here at the LSV in collaboration with IRT SystemX, and under the supervision of Ph.D. Stefan Haar.